101 Funny Facebook Statuses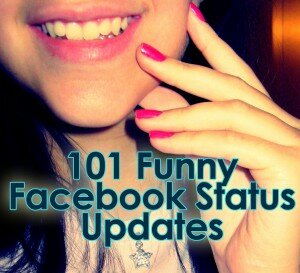 Enough Boring Status Updates
Funny Facebook Statuses
Are you a fan of a good Facebook status? Need ideas for a good status? Here are 101 funny Facebook statuses so stop wasting countless hours shuffling through the noise and useless updates to strike a little status gold. Check it out; we've compiled an list of 101 funny hilarious posts and tweets for you. Enjoy!
-FUNNY LIFE STATUS-

Ever had feelings for your friend?
-FUNNY RELATIONSHIP STATUS-
.

Time to get rid of them… Read:
-FUNNY GIRL STATUS-

Think Chivalry is dead?.. Think Again.
-FUNNY GUY STATUS-
Also read: 50 Hilarious College Memes