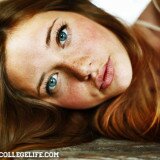 Most Amazing Eyes Gallery – Part 2



This is a gallery for those guys who are suckers for a pretty set of eyes. Ranging in colors, shapes and sizes, this amazing eye gallery will surely have you debating to yourself which eyes you favor. Blue, green, yellow, brown and in between –it's not an easy decision.
We might have to disagree with you on this one, Shakespeare. This compilation brings you more from one of our most positively received articles, The Most Amazing Eye Gallery – Part 1.