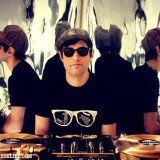 Rostam's 30 – DJ Shiftee's Interview
Posted 3/12/13 by
DJ Rostam

Rostam's 30 is LTCL Magazine's new initiative led by DJ Rostam to introduce new hot artists to our college readers. Simply put, we interview these artists with 30 questions and provide their music links for you to download and listen to daily. Let us know what you think about DJ Shiftee with a comment below!
Add this to your college music playlist. This week we introduce you to a super active and talented DJ from New York City–DJ Shiftee. Best recognized by his two-time DMC World Championship titles and viral YouTube videos.
Make sure to check out DJ Shiftee in the video above performing an incredible scratch routine in a New York warehouse using Traktor Kontrol Z2 and Maschine.


Who is Shiftee?
DJ Shiftee has translated his intuitive math geek mentality into far-reaching success on the turntables, electrifying crowds from NYC to London to Hong Kong. With a degree from Harvard, 2 unique DMC World Champion titles, a NYU adjunct professorship, a top 10 debut release on Beatport's Dubstep charts, a membership in the supergroup Mostly Robot, a finger on the pulse of bass music, and an ongoing international tour schedule, this overachiever can do it all.
On Sept. 12, 2009, DJ Shiftee represented the USA in the 2009 DMC World DJ Finals. He took the title, was automatically inducted into the DMC DJ Hall of Fame and brought the fabled gold Technics turntables back to NYC! This new title places his name along side over 20+ legendary DMC World Champs including Craze, A-Trak, Cash Money, DJ Cheese, Rock Steady DJs (Apollo, Mix Master Mike & Q-Bert), Plus One of Jack Beats, and the late Grand Master Roc Raida.  In 2007, Shiftee also became the only American DJ to date to have won the DMC Battle for World Supremacy title. This victory served as the catalyst for widespread international recognition, allowing Shiftee to take his talent and creativity across Asia, Europe, and the US to some of the world's biggest clubs, most prestigious venues, and monster festivals.  His groundbreaking DJ mixes have been featured on BBC 1Xtra, Mishka Keep Watch, Kiss 100 (UK), Deepsession, Seclusias' Who Run It!? Podcast, The Rub's Scion AV Show, Dubset, Dubspot, Boundless NY, Noise 212, KNKT3D Magazine, Noisy Dubs, and more. Mishka recently ranked his "Keep Watch" mix the most memorable of the entire series.
Having already established himself as master in the DJ world, Shiftee has been turning heads as a producer.  His debut release Space Ace, a collaboration with Rx on Rad Summer, hit top 10 on Beatport's dubstep charts.  His originals and remixes have been receiving support from Rustie (BBC Radio 1 Essential Mix), Starkey, Royal-T, Udachi, Baauer (BBC Diplo & Friends Mix), Plastician, Crizzly, DJ Wonder (Rinse FM), Nick Catchdubs, Pictureplane, Spooky, Dev79, Elijah (Butterz), Mess Kid, Selecta Fewie, Rx, Sonkin, Lamin Fofana, and more.  With tunes already out on Hot Mom USA, Rad Summer, Seclusiasis, Deepsession, and LU20 plus forthcoming releases + remixes on Slit Jockey, Dutty Artz, & Seclusiasis, Shiftee is definitely a producer to watch.
Shiftee is also a renowned educator in the field of DJing and DJ technology.  He is an adjunct professor at New York University, the Director of DJ Curriculum at the prestigious Dubspot school in NYC, and an endorsed artist & product specialist for Native Instruments.  The man understands DJing!  Beyond teaching, Shiftee spends his time figuring out new and innovative ways to decimate the dancefloor. He fuses an astute ear for cutting edge music with a world champion skill set & grasp of technology, creating an experience that is always jaw dropping.
Titles & Awards:
2009 DMC WORLD CHAMPION
2007 DMC Supremacy WORLD CHAMPION
2008 IDA/ITF Finals WORLD VICE CHAMPION
2009 DMC USA CHAMPION
2007 DMC Supremacy USA CHAMPION
2009 DMC EAST COAST CHAMPION
2004 Guitar Center NY/NJ CHAMPION
2003 DMC Regional NYC CHAMPION
2003 ITF Regional EAST COAST CHAMPION
For more on DJ Shiftee, be sure to follow him on his Website, Facebook, Twitter and DubSpot.
Full Name:

Samuel Morris Zornow

Stage Name:

Shiftee, DJ Shiftee

Occupation:

DJ, Producer, Label Owner and Teacher (NYU & Dubspot).

Genre:

Turntablism, Grime, Dubstep, Hip Hop and Future Bass.

Gender:

Male

Age:

26

Where did your stage name come from?

 

I picked it when I was 13 from an Eminem lyric 'I'm low down and I'm Shiftee.'  I thought to myself, 'Hey! I'm low down and I'm shiftee.'

Where are you from? 

NYC.

Where did you start your career? 

NYC, doing DJ battles mainly. My first big performance was a DJ battle at a car show in Queens with my parents watching on next to tricked out rides.

What city do you represent?

 NYC!

What gave you that initial push? 

A love of Hip Hop and wanting to be a part of it.

How long have you been in the industry? 

I've been doing this professionally since 2008, but entering high level competitions since 2002.  Really since I was 15.

If you had to give a thank-you speech, who would you thank and what would you say?

 

I'd thank my parents for supporting this passion of mine despite lots of late night noise, annoying travel, and the occasional disregard for school work.  I'd also thank my DJ crew the Lo-Livez who took me under their wing when I was first starting out and really helped me grow into who I am today.

What makes you a softie? 

I am a big fan of Snuggies.  That's an incredible invention.

What would you do if you knew you couldn't fail? 

Play for the New York Knicks.

What are three hobbies of yours other than what you do? 

I am an avid NBA fan and fantasy basketball player, I'm quite into TV shows & film, and I dream sandwiches.

Pepsi or Coke? 

Coke.

Rap or Hip Hop? 

Hip Hop.

House or Dubstep? 

Dubstep.

What do you eat a lot more than anything else? 

Cold Cuts!

What was the first event you ever played at/put on? 

I DJed my middle school graduation pool party.

What are some of your accomplishments in the field? 

2x DMC World Champion, member of the super group Mostly Robot, Director of DJ Curriculum of Dubspot,  Native Instruments endorsed artist, adjunct professor at NYU, co-owner of the record label Hot Mom USA, debut release in Beatport's top 10 dubstep charts and to my knowledge the only DMC World Champion ever who wore glasses during competition.  

What makes you different than everybody else in the industry? 

The glasses.  See above.

Do you produce? If so do you prefer performing or producing? 

I also produce, but I prefer performing.  There's nothing like connecting with a crowd live in the moment.

Who would you love to perform with? 

Woody Allen.

What's your longterm goal? 

Just to be able to keep doing this for the rest of my life.  If I can make a living off music long term, I'll be a happy camper.  By the way, I went to summer camp for 14 years.

When all the partying is over how do you like to chill out? 

Watching TV shows with my girlfriend.

Funniest thing that ever happened at an event?

 In college, I once had someone request a song that was playing at the exact moment they requested the song.  

What advice would you give to up and coming artists? 

Success is proportional to how hard you work.  If you want to be successful, don't just work hard.  Work harder than everyone else.  

What are your goals for 2013?

 Learn French, grow Hot Mom USA, tour the world including Japan & Australia, put out quality music and quality projects, drop some new turntablism technology routines and invent a new type of deli meat.

Be sure to check out all the featured artists on Rostam's 30, and follow DJ Rostam on Facebook for more!