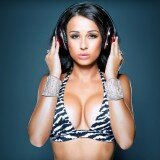 Rostam's 30 – Juicy M's Interview
Posted 2/19/13 by
DJ Rostam

Rostam's 30 is LTCL Magazine's new initiative led by DJ Rostam to introduce new hot artists to our college readers. Simply put, we interview these artists with 30 questions and provide their music links for you to download and listen to daily. Let us know what you think about Juicy M with a comment below!
What a sexy chica! Originally from Kiev, Ukraine, we're stepping a bit outside of the box to introduce you Juicy M, our fist  Rostam's 30 featured female DJ on LTCL Magazine.
Juicy M is one of the most successful DJs in Europe. Since 2006 she performed in more than 200 venues in more than 50 countries all over the world and this is just a beginning . There are only high profile clubs & events like 1Oak (NYC, USA), M1NT (Shanghai), Pacha (Egypt), X2 (Jakarta), Horizon Lounge (Dubai), The Rooftop (Hanoi), Trilogy (Mumbai), Wall (Miami) and many more. In 2011 Juicy played at official Backstreet Boys VIP parties in Saigon & Hanoi during their tour in Vietnam.
DJ Juicy M began her career in 2006 and during the first year she became resident DJ in the best Ukrainian Clubs at that time like Orangerea Supper Club & Patipa Club in Kiev and Matrix Club in Yalta. Also Juicy signed with Fashion TV Ukraine and was a headliner of the Ukrainian FTV tour in 2007.

Behind all the sexiness, there is an ultimate scratch technique that is really challenging, so big props. It really is not all about how flashy you look on the spot. Juicy M is always taking part in scratch and technique contests like DMC World Eliminations in Ukraine and World Technical DJ Championship in Dubai. She received the "Best DJane Of The Year" at ProDJ Awards in 2010.
Juicy M is a DJ with a perfect ability to communicate with the crowd. She precisely knows what party people want and she always creates the right mood and just blows the party up! So be sure to check her out on her official Website, Twitter, Facebook and YouTube.

Full Name: 

Marta Snitkina

Stage Name: 

Juicy M

Occupation: 

DJ/Producer

Genre: 

Progressive/Electro House

Gender: 

Juicy

Age: 

Forever 21

Where did your stage name come from?

 

Name "Juicy M" is a short name from Juicy Martinez, which in turn comes from my original name before marriage – Marta Martines.

Where are you from?

 

I'm from Ukraine, but now I live in Amsterdam.

Where did you start your career? 

I started to play in 'Posh' Kiev's clubs like Orangerea Supper Club, Kaif and Patipa in 2007.

What city do you represent? 

I represent Kiev, Ukraine.

What gave you that initial push? 

I always wanted to be a DJ, since I was little I scratched on my parents vinyls.

How long have you been in the industry? 

For 5 years so far.

If you had to give a thank-you speech, who would you thank and what would you say? 

It would be a very long list, because I meet people who help me on my way everyday, and I really appreciate it.

What makes you a softie? 

Absinthe.

What would you do if you knew you couldn't fail? 

The same as what I do now!

What are three hobbies of yours other than what you do? 

I'm collecting hotel room keys, I'm doing clothes design and skiing.

Pepsi or Coke?

Coke.

Rap or Hip Hop? 

Both.

House or Dubstep?

 

House.

What do you eat a lot more than anything else? 

Chocolate bars with chocolate syrup while drinking hot chocolate. 🙂

What was the first event you ever played at/put on? 

I was at Orangerea Supper Club, Kiev. That was a really big night for me.

What are some of your accomplishments in the field?

 

First of all I'm glad to say that I've already played in more than 50 countries on 5 continents playing with huge stars like Backstreet Boys, Black Eyed Peas, Jay Sean and others. Also shooting for FHM, XXL and Maxim magazines, but the main accomplishment is hundreds of new friends all over the world.

What makes you different than everybody else in the industry? 

I've never tried to be different, I'm just doing my best everyday and keeping it real.

Do you produce? If so do you prefer performing or producing? 

I've just started producing music, but I'm sure I do prefer performing more. I'm doing new tracks to play them for sure.

Who would you love to perform with?

 

My dream would be to perform back to back with Skrillex.

What's your longterm goal? 

To be number 1 female DJ in the world.

When all the partying is over how do you like to chill out? 

When the party is over there is always an after party somewhere. 😉

Funniest thing that ever happened at an event?

 

Apart of the fact that I fell off the stage once, the funniest thing was a week ago when 3 photographers had a real fight deciding who will be doing shots of me playing and one of them fell off the huge stage, it was like 2 meters hight.. That was an epic fail.

What advice would you give to up and coming artists? 

Believe in yourself and practice more!

What are your goals for 2013? 

To be in top ten on Beatport.