6 Must Know Tricks for the Traveling Student


The art of jet setting is an acquired skill and tricky to master. The thought checking in luggage, standing in long security check-ins,  and being seated next to a stranger for hours leaves some calling it quits on a vacation all together! Here are a tricks I have come up with to get me through the airport anxiety and into fabulous jetsetter mode and make the most out of my stay!
Don't Overpack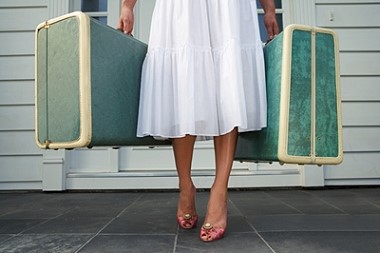 I love having a plethora of possible outfit choices as much as the next girl, but when it comes to strict and expensive airline guidelines, you really have to tone it down a notch (Or seven). Give yourself an extra 1-2 outfits leeway.  As your packing, try to put outfits together instead of mindlessly packing your favorite single pieces. It'll save you the panic of not having anything to wear while your suitcase is overflowing with clothes. Trust me, it can happen! Plus a little extra room in your suitcase means plenty of room for expanding your wardrobe.

Pick A Cute/Comfy Outfit
Of course your immediate instinct and copout for waking up any earlier than need be is to wear your scrubs: sweat pants,  yoga pants, tee shirts, sweatshirts, pj's ect. You're just setting yourself for a not so glamourous arrival and who wants that? Celebrities have airport travel down to a tee. An outfit must be simplistic and comfortable. Depending on your destination, wear something that is comfy to be sitting in for hours and fit for the weather when you land. I can't take the hot humid weather when landing in Hawaii wearing pants! A long maxi dress is both comfy, stylish, and appropriate for the heat of beautiful Hawaii! Heading for the slopes? The ultimate piece for you is the jegging pant which looks amazing in black. Pair that with an oversized slouchy sweater and boots for a fab effortless look!
Security, Security, Security!
Airport security has been noticeably increased ever since 2001, and the rules keep getting weirder and weirder… You must take your shoes off while passing through security which can be a hassle if you don't plan accordingly. I found wearing flip flops is the most convenient for security purposes. Make sure you check regulations on the ounces of liquid that are allowed on board and put them in ziplocks. Be aware that laptops must be taken completely out of any protective case and placed in a separate bin so you're not digging for it in your bag.
Get Some Good Reads
There's nothing like having a good magazine on hand when you are thousands of feet up in the sky! Pick up the latest celebrity

gossip or if you're anything like me you're into self-improvement and love keeping up with the latest health and fitness tips. Reading about working out could possibly trick your subconscious into thinking you are actually doing the work too right?!
Tip Your Housekeepers
In my experience, tipping your housekeeper does not only give you better and more friendly housekeeping, it's sort of an insurance policy for your valuables. Hotel employees are truly grateful when you give them a few dollars and I have never had a thing stolen once!
Go Local

Some of the best restaurants and spots I've been to are little holes in the wall that not too many people know about. Keep an eye out for quaint little side stops or ask someone who is a local!
Well I hope you can squeeze in one last vacation getaway before it's time to head back to school. I'm on my way to Hawaii as I write this and I'm definitely putting all the tricks I have up my sleeve into play. Have a safe trip- I'll be about 17 shades darker next time I talk to you guys! Mahalo!