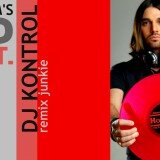 Rostam's 30 – DJ Kontrol's Interview
Posted 3/6/13 by
DJ Rostam


Rostam's 30 is LTCL Magazine's new initiative led by DJ Rostam to introduce new hot artists to our college readers. Simply put, we interview these artists with 30 questions and provide their music links for you to download and listen to daily. Let us know what you think about DJ Kontrol with a comment below!
Based in Atlanta, GA, the city many refer to as the new Motown for music, DJ Kontrol sets himself apart from the rest with his experience as both a DJ & Producer. Kontrol has been at the forefront of the Mash-Up movement blending Hip-Hop & Dance music for nearly a decade. His sought after Remixes have been featured on all the major DJ sites including Beatport, CrooklynClan.net, YourRemix.com, StrictlyHits.com and more.
As a DJ, Kontrol spins an open-format of music featuring classics from every decade in addition to many of his signature Remixes. With more than 10 years of nightclub experience, this DJ has what it takes to satisfy a diverse room of clubgoers. His vast knowledge of music & knack for incorporating the craziest Remixes into his sets ensure a good time whenever he is in 'Kontrol' of the party! For more on DJ Kontrol, check out his official Website, Facebook and Twitter.
Full Name:

 

Stephen Monica

Stage Name: 

DJ Kontrol

Occupation: 

DJ/ Producer/Remixer/Engineer

Genre: 

Mashup/Hip Hop/Electro/Trap/Moombahton/Dubstep

Gender: 

Male

Age:

No Comment!

Where did your stage name come from? 

After a few generic names like 'DJ Steve,' I decided that I wanted a name that was powerful & 'control' is the word I thought of. I switched up the 'c' to a 'k' and went with it!

Where are you from? I was born & raised in upstate NY!
Where did you start your career?

 I began DJin' frat parties at UNC-Charlotte in North Carolina!

What city do you represent? 

Atlanta, GA.

What gave you that initial push?

 I remixed Lil Jon's 'Crunk Rock' CD a week after he released the Acapellas and he hit me up. Since then we've collaborated on dozens of Mashups.

How long have you been in the industry? 

12 years!

If you had to give a thank-you speech, who would you thank and what would you say? 

I would definitely thank Lil Jon for helping to get my name out there & everyone else who has believed in & helped me throughout the years!

What makes you a softie? 

My niece & nephews!

What would you do if you knew you couldn't fail?

 I would try everything.

What are three hobbies of yours other than what you do? 

Movies, photography & basketball!

Pepsi or Coke? 

I don't drink soda anymore but when I did, I drank Mountain Dew like it was going out of style, so I would say Pepsi.

Rap or Hip Hop?

 Hip Hop.

House or Dubstep? 

House.

What do you eat a lot more than anything else? 

Pizza!

What was the first event you ever played at/put on? 

A huge frat party at UNC-Charlotte during my junior year of college. There was thousands of people there but I didn't know how to mix. I was using 2 CD players without pitch control & fading songs in & out. I'd say I've come along way!

What are some of your accomplishments in the field? 

I'm real proud of the work I've done with Lil Jon. I've engineered sessions with Hip Hop legends 8Ball & MJG. Other than that I feel like I'm just getting started & some of my best stuff is yet to come!

What makes you different than everybody else in the industry? 

I have a real passion for Remixes, both producing & listening to them. I always have as far back as I can remember. There's just something about taking a song & making it better or reinterpreting it and opening it up to a whole new audience.

Do you produce? If so do you prefer performing or producing? 

I do produce. I live in the studio so I do enjoy it, but nothing beats the feeling of performing & connecting with a crowd.

Who would you love to perform with? 

Partysquad. I am a big fan of what they do & would love to get the chance to rock with them.

What's your longterm goal? 

To make my name go down in the history books of music. I want to be associated with quality stuff throughout my journey & for pushing music forward. Anything else will just be a bonus!

When all the partying is over how do you like to chill out? 

I love watching movies & a few TV shows like Breaking Bad & Boardwalk Empire.

Funniest thing that ever happened at an event? 

I got fired from a gig for having sex in the DJ booth back in Charlotte. It was funny that night, but the next day when they told me I wasn't allowed back in the club I stopped laughing!

What advice would you give to up and coming artists? 

Make sure that you love music. This industry will test you in so many ways & for me the only thing that keeps me going through the hard times is my connection to the music. It's always been my escape, so on my worst days I think to myself 'would I rather be doing anything else?'

What are your goals for 2013? 

To continue to play in new cities all over and be part of a song that charts on Billboard.

Be sure to check out all the featured artists on Rostam's 30, and follow DJ Rostam on Facebook for more!