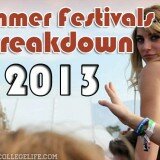 Breakdown of This Summer's HOTTEST Music Festivals!



Posted 5/10/13 by
Miles Young
Summer sun, cold drinks, and great live music is just around the corner. Unfortunately, if you don't prepare yourself you'll miss out on getting your tickets to see the incredible artist these summer music festivals have lined up. From classic jam bands, to the world's top DJs and hip-hop acts, just about every genre will be covered and more. Here is the college student's breakdown for 2013 summer music festivals.
1. Bonnaroo
June 13 – 16 Manchester, TN
Price: Starts at $260 for 4 day pass
Start out your summer excitement with a bang by checking out Bonnaroo. From June 13th to the 16th, music fans will come from all over to camp out in the scorching hot sun of Manchester, Tennessee. This year's lineup includes top artists and comedians such as Paul McCartney, Tom Petty and the Heartbreakers, Daniel Tosh, Weird Al, and numerous other acts. Although Bonnaroo is undoubtedly one of the top must-see live music events of the year, it also offers a range of other cool stuff to see. From stand-up comedy, to art, and even a health and wellness activities, Bonnaroo is one jam-packed event that is more of an experience than just a music festival.

2. Lollapalooza
When: August 2 – 4 Chicago, IL
Price: Starts at $389 for 3 day pass
Since the early 90′s, Lollapalooza has been at the forefront of live events for offering concert-goers a massive bill of alternative rock bands to see over a three-day period. 2013's event is no different. During the August 2nd -4th weekend at Grand Park in Chicago, IL, fans will be thrilled by exciting bands and unforgettable performances. With superstar bands scheduled to play such as Phoenix, Vampire Weekend, The Killers, and countless other acts, there is an act here for just about everyone's music tastes. With over 100 bands scheduled, Lollapalooza tickets are sure to sell out fast. Fans should act quickly if they don't want to be left out of the fun.

3. Summerfest
When: June 26 – 30; July 2 – 7 Milwaukee, WI
Price: $15 – $39
If the premium pricing and alt-rocker vibes of Lollapalooza and Bonnaroo aren't your thing, you might want head out to Milwaukee for Summerfest. Billed as the "world's largest music festival", Summerfest is known for booking the hottest top 40 acts and cult favorites in the country. 2013's performers include artists such as: Fun., Tim McGraw, John Mayer, Imagine Dragons, Rush and more. Summerfest is so big that it covers nearly two full weeks in late June and early July. If you have a 2013 summer jam, chances are you'll be able to hear it live in Wisconsin!

4. Outside Lands
When: August 9 – 11 San Francisco, CA
Price: Starts at $250 for 3 day pass
Another incredible festival that you might want to check out is the Outside Lands festival, held at the Golden Gate Park in San Francisco, CA from August 9th through the 11th. Here you'll enjoy a range of spectacular acts, such as the Red Hot Chili Peppers, Nine Inch Nails, Paul McCartney, and plenty of other amazing artists. Don't miss your opportunity to enjoy these artists and to explore various other vendors throughout the festival for an outstanding experience. If you're on the west coast and don't want to make the drive out to Lollapalooza or Bonnaroo, Outside Lands might be your best bet as they share many of the same acts.

5. Bumbershoot
When: August 31 – September 2 Seattle, WA
Price: Starts at $120 for 3 day pass (special advanced pricing)
Scheduled from August 31st through September 2nd, enjoy your last summer weekend in Seattle at the Bumbershoot music festival. Not only can you rock out to a range of bands, but you can also explore art and attend stand-up comedy shows throughout the weekend. This year's event mixes rock, dance and hip-hop by featuring artists like Kendrick Lamar, MGMT, Death Cab For Cutie and Tegan and Sara. What better way to say goodbye to the summer with a three-day live extravaganza!

Choose your genre, decide on a city, and get ready to have the time of your life at one of the mentioned must-see music festivals of 2013.