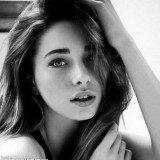 Most Amazing Eyes Gallery
Posted 10/15/12 by
Alex Cruz
Set your eyes on these eyes. This is a compilation of some of the most beautiful eyes I have found on the web. A mix of college ladies and models that are here for you consumption. This is the first of many articles under the "Eye Candy" category, under the mini site of LTCL Magazine, dedicated for guys. Of course, I know of many straight girls who can appreciate a nice set of almond eyes.
I hope you like, and don't be afraid to share the love.
#1

#2

#3

#4

#5

#6

#7

#8

#9

#10

#11

#12

#13

#14

#15

#16

Name your favorite eyes in the comment section below.