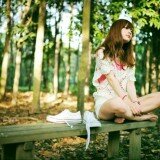 5 Forgotten Items Every Girl Needs In Her Spring Wardrobe



Posted 4/10/13 by
Rachel Crocetti
I
t's that time of the year again. The weather is changing, the sun has come out of hiding, and those winter items need to be part of your spring cleaning! A little extra room in your closet means it's clearly time to go shopping. With the spring weather comes the sundresses, skirts, and crop tops, yet many ladies are forgetting some very important items that look great on campus or other events. Here are a five spring wardrobe staples you need to have:

1. Light Jackets
When the temperature increases, it's so easy to forget about the light jackets. However, if you are an early riser or like to stay out later at night, you need to be ready for those brisk mornings and cool nights. We recommend you have a light trench coat to stay looking cute in all of the April showers. Try a military or leather jacket for you nights out. Blazers are also perfect for a dressy look and come in tons of colors and designs. Key point to remember here is to not put away all of your outerwear – Mother Nature is never dependable!
 2. Maxi Dresses
Sundresses are a staple in every girl's wardrobe, as they should be. We think they are adorable; however, the weather might still call for a longer style dress which is why the Maxi Dress is perfect. Go pick out a cute maxi dress in a bright color or print for your next dinner date. Maxi dresses are also a great choice for spring weddings. This dress style will help you avoid most wardrobe malfunctions while allowing you to show off your moves on the reception dance floor!
 3. Western-Style Boots
When people think spring, they rarely think "boots". Yet how could you pass up how great cowboy boots look when paired with denim shorts or even a sundress. They can become just as much of a staple as your favorite pair of flats or sandals.
Tip – sport a pair of cowboy boots to a spring concert to avoid getting your toes stepped on and your pretty pedicure ruined!
 4. Cropped Pants
These are a perfect pick for that in-between spring weather. Choose a pair in a bright color that has a hemline hitting a few inches above the anklebone. You don't want them to be too long or they'll look like short pants, but you don't want them to look too short either. So make sure you double check the length.
Tip — if you can't find that perfect length for your height, don't be afraid of the tailor!
 5. Sunglasses
This is the time to make sure that you protect your pretty eyes as well as find the perfect spring wardrobe accessory. The best part about sunglasses is that you don't have to splurge. There are sunglasses for every budget. Many affordable brands are coming out with great designs so we urge you to try multiple styles.  Try classic looks as well as some you aren't used to. Wondering what the popular styles are right now? Look for shades with a slight cat-eye, faux Ray-Bans (or real, if you want to splurge!) and of course, the essential aviators.
So those are our essential spring wardrobe items. We hope they can help you make this spring cleaning a little more fun.
Question: What's one spring clothing item you can't live without?